Your son or daughter is off to college in the fall, away from home. Congratulations.
You have a plan in place for the tuition to be covered. But what about the other college-related expenses? Books? Meals? Laundry? Rent? And a little fun—just a little? What about emergencies?
With previous generations, parents would often wire money or send their kids monthly checks. But did the money end up being used for the intended purpose? Many parents never knew.
Today, a variety of options exist for sending money to college students. One of the easiest to get and manage for parents and students alike is a prepaid card such as a reloadable Green Dot® Prepaid Mastercard® or Visa® Card.
How it works
A prepaid card operates the same as a standard debit card—you can use it to make purchases online or at retail stores and you can even withdraw cash from ATMs if you need to (fees apply). But there are some differences between a prepaid card and the other types of cards.
For starters, a prepaid card is available to anyone over 18 years old. No credit check is required. So even if your college kid has never applied for credit (or has less-than-perfect credit), he or she can still get a prepaid card.
In addition, a prepaid card doesn't come with a line of credit, so you can rest easy knowing your college kid isn't maxing out a credit card.
How it's loaded
Money can be added to your card over and over again, although limits apply to the number of times you can add money each day, at participating retail locations around the country, by transfer from one Green Dot card to another, or by direct deposit of a paycheck. This way, your student can always get the money he or she needs in the most convenient fashion—right into the wallet.
A card for you, a card for your student, or both
Some prepaid cards, such as Green Dot, offer a choice of use. As a parent, you can get a card for yourself and one for your student, personalized with his or her name (verification required), giving your student the responsibility to handle budgeting directly. Then, as mentioned earlier, you can transfer money from one card to the other, or if the account is shared, the funds can be used straight from the same account.
Or you can pick up a Green Dot card for yourself and get a secondary (family) card as well for your student. With this option, both cards are linked to the same account, which comes with an extra benefit I'll discuss in the next section.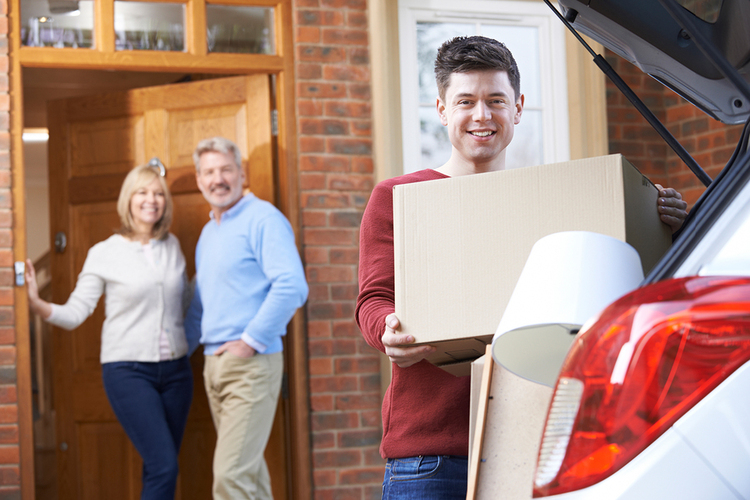 Monitor activity and balance
Where is your student spending money? If you get a second card for your college kid, you'll share an account which allows you to monitor the account balance as well as the transaction activity of the joint account. Books or partying? You'll know exactly what's going on with the joint account by logging in to GreenDot.com. Or use the Green Dot mobile app and you can know on the go, checking into the account and receiving text alerts of activity on your smartphone, although carrier fees apply.
What happens if the card is lost?
Students have plenty of things on their mind, so it's not uncommon for items to get misplaced: cell phones, homework, books, and payment cards. You want a prepaid card that protects your money and can be easily replaced if lost or stolen. Registered Green Dot cards are protected against unauthorized transactions and you can easily log in to GreenDot.com to let them know your card was lost or stolen so that they can send you a new one (fee may apply).
It's a new era of money from home
To get your very own Green Dot Prepaid Mastercard or Visa Card or learn more about its simple fees, check out GreenDot.com today.