Did you know that 76 million Americans are struggling to make end's meet? That's more than 30 percent of the United States population. If you count yourself among them, don't beat yourself up. Financial struggles have become increasingly common, and the solution might lie in budgeting.
A budget is a written document or spreadsheet that lists your expenses and the amount of money you will set aside for each. Common expenses include housing, food, utilities, transportation, clothing, incidentals, and medical care. Based on your income, you limit your expenses so that you bring in more money than you spend.
Many people create unreasonable budgets that they can't possibly maintain. Don't fall into that trap. Be completely honest with yourself as you map out a budget. That way, you can stick to it and get back on solid financial footing.
How Do You Start Budgeting?
Unless you live alone, you shouldn't budget alone. Everyone in your household — except minors, of course — needs a voice when you write out a budget that they must follow. Gather all adults into the same room and explain that you want to create a reasonable budget.
Maybe you've already created a budget, but you've overspent for the last six months. This means that your budget no longer works — or that it never did. Throw away the old budget and start fresh instead of trying to cram your lifestyle into a set of limits that don't work for your family.
Additionally, you'll need lots of data to know exactly how much you spend. Don't just grab last month's utility bills and glance at them. Your energy and water consumption varies from one month to another, for example, so look at three or more months' worth of bills. Ideally, track down an entire year of bills and average them out. This way, you know roughly how much you'll spend throughout the next 12 months.
Now you're ready to put pen to paper — or fingers to keyboard. Write down all of your expenses and what they cost you each month. Add them up to find out how much you spend on necessities. Include any payments you make on credit card debt, student loans, or other debts, as well, because you don't want to default on any of them and ruin your credit.
Add another entry for discretionary spending and, if possible, one for savings. Emergencies and accidents sometimes happen, so having some extra cash stocked away will be useful. Additionally, leave a little discretionary funding that allows you to do things you enjoy as long as you follow your budget.
Once you've outlined the complete budget, write down your financial goals. Keep them reasonable and small, especially at first. Instead of writing "Save $1 million dollars by age 40," you might write "Have $1,000 in savings by next year." Use your budget and your income to create goals that match your financial reality.
What Does the Ideal Budget Look Like?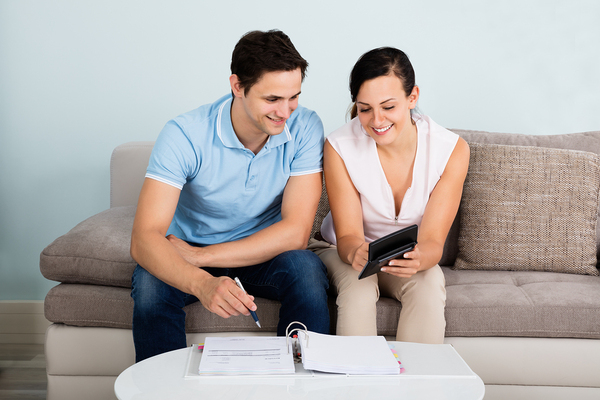 A budget shouldn't tighten the purse strings so much that you're unable to grab a drink with friends or buy the latest book by your favorite author. Instead, it should help you work toward specific goals, such as paying down student loan debt or becoming debt free. If you don't have any or much debt, you could focus instead on building a nest egg for your future, or saving for a vacation.
In other words, your ideal budget might not resemble your best friend's budget. You both have different goals, needs, income levels, and lifestyles, so keep your eyes on your own paper when it comes to your budget.
Most importantly, a budget should put essential expenses first. You can live without your daily latte, but you can't survive without a roof over your head or food in the pantry. Give essential items priority as you build your budget, and don't feel tempted to underestimate those expenses.
Next, look at the goals you set forth above. If you're hoping to pay down debt, you might want to put credit card and loan payments before your savings account. After all, when you get rid of your debt, you can start saving money faster. Plus, you won't feel the weight of that debt hanging over your shoulders.
Alternatively, if you're hoping to save money, focus on reducing your expenses and cutting costs. You might switch to generic foods and medications, for instance, or put off the short spring trip so you can put more money toward your summer vacation.
Keep long-term goals in mind, too. You might have goals for three, six, nine, or 12 months down the road, but what about five years from now? The financial habits you create now will either further or hinder those larger goals.
How Should You Prioritize Spending?
When it comes to discretionary spending, a good rule is to make it memorable. You don't want to blow money on things that won't leave you satisfied or that might trigger buyer's remorse later. For instance, the hot pretzel might look great as you pass the vendor on the street, but how long will you enjoy the pretzel? Is it important enough to justify the money you spend on it?
Consider spending your discretionary fund on experiences rather than things. For instance, maybe you take your spouse out for a romantic dinner on date night instead of buying a new smartphone. The memories you create will be better than any form of retail therapy. Other enjoyable experiences include day trips out of town, a visit to the local zoo or museum, and movie night at home. However, if you both enjoy spending money on products, practice comparison shopping and watch for deals and coupons. Look for ways to save money every time you open your wallet.
Most importantly, however, cover the essentials first. If you're worried about paying the rent, cancel your cable subscription and hold a garage sale. Don't hit the mall to make yourself feel better.
Other than your small discretionary fund, every dime you spend should further the goals you've created for yourself or keep you safe and healthy. Decide that you'll give up a few short-term luxuries in favor of long-term benefits.
How Do You Stay On Track?
Many consumers create budgets with every intention of seeing them through. Then, when temptation hits, it's easy to forget about that spreadsheet and go for instant gratification. Don't fall into this trap if you want to reach your goals.
For one thing, you'll regret your decision at some point, and your lowered self-esteem might encourage you to give up entirely. Plus, you might let down your spouse or other family member, and you could put your home and other necessities at risk.
There are a few tricks you can use to keep yourself on track with your budget.
Look for budgeting tools that might help you track your spending. Some consumers prefer a piece of paper and a pen or a ledger. Others like more high-tech solutions, such as smartphone apps. Use these tools to log your spending and to check your expenses against your budget. If you find that you're spending more than anticipated in a particular area, figure out how to curb your spending or adjust your budget accordingly.
Set a reminder on your phone or computer that tells you when your bills are due. Many consumers rack up hundreds of dollars in late fees every year because they're simply forgetful. If that sounds like you, force yourself to pay bills on time so you don't get hit with those charges.
Keep track of windfall income, as well. Maybe you receive an inheritance, win a scratch-off lottery, or get a cash gift from a relative for Christmas. Alternatively, you might receive a bonus from work, or you might get a big commission one month. Whatever the case, try to put this money toward your specific goals. You'll feel motivated by the sudden leap in progress.
It's also helpful to reward yourself for good behavior. Just as parents give their children treats and toys for acting correctly, you can indulge in small luxuries every once in a while because of your hard work.
When you're single, you get to pick the reward. Maybe you'll treat yourself to a new outfit or an anticipated new gadget. However, families should choose the reward together. Think of something you all would enjoy so you each feel the pleasure when you reward yourself. Alternatively, you might alternate months with your partner.
If you sometimes find yourself spending money without thinking about your budget, consider separating your money. People used to use envelopes full of cash, but that method has become outdated. Instead, use a Green Dot prepaid debit card to separate your income into different expense categories. One card pays fixed costs like rent, utilities, etc. and another card can pay for flexible costs such as groceries and your weekly latte.
Prepaid debit cards can help you manage your impulsive desires and keep track of your cash. Get a card* now to start benefiting from this strategy.
*Disclaimer: Fees and limits apply. See Cardholder Agreement for details.