Nobody likes to admit that they're falling into financial trouble. The faster you recognize the problem and correct it, however, the easier it will be to avoid a financial disaster. Look for these four red flags that might signal financial trouble and learn how to fight back against them.
Depleted Savings
Often, one of the first warning signs of financial trouble can be found in your savings. If you're using it to cover regular expenses, such as utilities and car payments, you might need to reexamine your spending habits and beef up your savings again.
Start tracking every dollar that you earn and spend. When you know how you're falling behind, you can curb your spending and regain your financial footing. Continue this practice even after you get out of money trouble. It will help you avoid the pitfalls that brought you to this situation in the first place.
Overdrafted Accounts
Overdraft protection can seem like a lifesaver when you need to buy $50 worth of groceries and you only have $10 in your bank account. However, your bank charges overdraft fees, which means that your $50 grocery purchase could cost you up to $90.
Consider using a Green Dot Prepaid Visa® card instead of your bank account. With a Green Dot Prepaid Visa card, you can only spend the total amount you've added to the card, and there are no costly overdraft fees. A merchant will simply deny the charge if you attempt to spend more than your card balance, so you'll spend more thoughtfully to avoid depleting your financial reserves. Plus, you can sign up for multiple cards, putting funds for a specific purpose on each card, whether it's your rent or mortgage payment or your supermarket funds for the month.
Minimum Credit Card Payments
If you only pay the minimum amount due on your credit card bills, you're costing yourself significant cash. Banks charge interest when you let your balances carry over from month to month, and you can end up doubling or even tripling the original charge amount. If you can't cover the purchase by the time the bill comes, put the item back on the shelf and wait until you can afford it without credit.
Payday Loans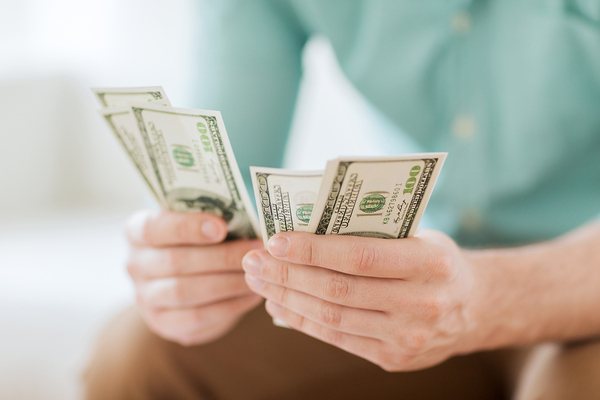 A payday loan might seem like a blessing when you need to cover a bill, but it quickly becomes a curse when the balance comes due. High interest rates are common among payday lenders, which means that you're digging yourself into a deeper financial hole.
Resist the urge to get a payday loan. Instead, sell something you own, trade in your car, get a second job, or borrow from a trusted family member. Once you've covered this crisis, develop better spending habits. Use your prepaid Visa card to balance your budget and control your spending.
Financial distress can cause anxiety, depression, and ruined relationships. If you notice these four signs of financial trouble, deal with them quickly. To start, get a card* and start managing your funds wisely.
*Disclaimer: Fees and limits apply. See Cardholder Agreement for details.